UFC middleweight champ Michael Bisping eyes retirement after two more bouts.
UFC middleweight champion, Michael Bisping talks about his potential upcoming retirement and the interim title situation with Yoel Romero and Robert Whittaker facing off for the strap.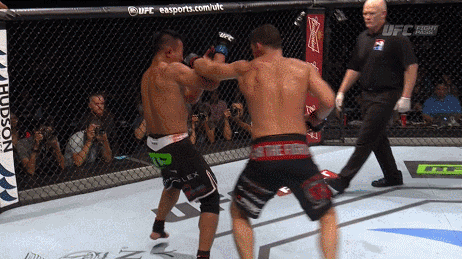 Michael Bisping has had an amazing career in the UFC so far, and it looks like it's going to be coming to an end soon. The current UFC middleweight champion and future UFC Hall of Famer recently done an interview with OddsBible and stated that he will likely retire from mixed martial arts after two more fights.
"If that fight [with St-Pierre] happens in November or December then after I beat him, one more fight in England. My last fight would have to be here, the fans have always got behind me, every step of the way",  Bisping stated. "I'm not saying 100 percent it'll be my final fight, but I can't fight forever."
Bisping has been fighting under the UFC banner since 2006 when he won The Ultimate Fighter Season 3 and he has since gone on to have one of the most illustrious careers in the history of mixed martial arts. Bisping paved the way for many UK mixed martial artists to compete in the UFC and has only been defeated by the best fighters that the sport has had to offer. He has recorded wins over fighters such as Anderson Silva, Luke Rockhold and Brian Stann just to name a few and will no doubt go down in history as the greatest mixed martial artist to come from the UK.
Bisping last defended his title in October 2016 at UFC 204 in a unanimous decision win over Dan Henderson but has since suffered a knee injury which has forced him to the sidelines. An interim UFC middleweight title bout between Yoel Romero and Robert Whittaker is now scheduled to take place at UFC 213 in Las Vegas with the winner set to face Michael Bisping at a later date which is yet to be confirmed.
"It doesn't mean anything; interim belts aren't worth the leather they're printed on. An interim belt is a joke, I defended the belt in October and I've had a bit of a knee issue, but it's the UFC's decision, and if they want to do that, then good for them", Bisping said in regards to the interim title bout.  "All it does is solidify who the number one contender is. They've got to sell pay-per-views."
Bisping has openly stated that he would rather fight Whittaker for the title due to Romero's previous failed drug test. He stated "I think Whittaker will pull it off. I know everyone hypes about Romero but he's a juicehead. He tested positive not too long ago so I'd assume he's not on anything now as he doesn't want to get suspended again ."
The interim title fight will surely be an interesting affair with two of the top contenders facing off, will Bisping be able to sign off on his career as UFC middleweight champion with two victories?