UFC middleweight champ Michael Bisping eyes retirement after two more bouts.
UFC middleweight champion, Michael Bisping talks about his potential upcoming retirement and the interim title situation with Yoel Romero and Robert Whittaker facing off for the strap.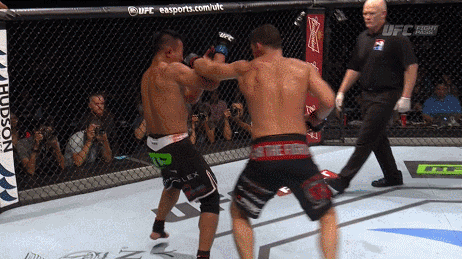 Michael Bisping has had an amazing career in the UFC so far, and it looks like it's going to be coming to an end soon. The current UFC middleweight champion and future UFC Hall of Famer recently done an interview with OddsBible and stated that he will likely retire from mixed martial arts after two more fights.
"If that fight [with St-Pierre] happens in November or December then after I beat him, one more fight in England. My last fight would have to be here, the fans have always got behind me, every step of the way",  Bisping stated. "I'm not saying 100 percent it'll be my final fight, but I can't fight forever."
Bisping has been fighting under the UFC banner since 2006 when he won The Ultimate Fighter Season 3 and he has since gone on to have one of the most illustrious careers in the history of mixed martial arts. Bisping paved the way for many UK mixed martial artists to compete in the UFC and has only been defeated by the best fighters that the sport has had to offer. He has recorded wins over fighters such as Anderson Silva, Luke Rockhold and Brian Stann just to name a few and will no doubt go down in history as the greatest mixed martial artist to come from the UK.
Bisping last defended his title in October 2016 at UFC 204 in a unanimous decision win over Dan Henderson but has since suffered a knee injury which has forced him to the sidelines. An interim UFC middleweight title bout between Yoel Romero and Robert Whittaker is now scheduled to take place at UFC 213 in Las Vegas with the winner set to face Michael Bisping at a later date which is yet to be confirmed.
http://gty.im/647639286
"It doesn't mean anything; interim belts aren't worth the leather they're printed on. An interim belt is a joke, I defended the belt in October and I've had a bit of a knee issue, but it's the UFC's decision, and if they want to do that, then good for them", Bisping said in regards to the interim title bout.  "All it does is solidify who the number one contender is. They've got to sell pay-per-views."
Bisping has openly stated that he would rather fight Whittaker for the title due to Romero's previous failed drug test. He stated "I think Whittaker will pull it off. I know everyone hypes about Romero but he's a juicehead. He tested positive not too long ago so I'd assume he's not on anything now as he doesn't want to get suspended again ."
The interim title fight will surely be an interesting affair with two of the top contenders facing off, will Bisping be able to sign off on his career as UFC middleweight champion with two victories?
UFC 241 Preview & Predictions
A look ahead to UFC 241 which sees the rematch between Daniel Cormier and Stipe Miocic
The UFC returns this weekend for another stacked pay-per-view card headlined by a Heavyweight Title rematch between Daniel Cormier and former champion Stipe Miocic.
The Main Event
DC is returning to action to defend his UFC Heavyweight title for the second time after previously defending against Derrick Lewis at UFC 230.
Cormier got the better of Lewis in that fight very early on and ended up securing a second round rear naked choke to make the first defense of his title.
Former Heavyweight Champion Stipe Miocic makes his return to the Octagon since losing his title to DC back in July last year, marking 13 months since he last fought.
DC knocked out the former champion in thier first 'Superfight' encounter. Looking back at the fight it was evidently clear that the need to no longer cut weight was a huge factor for DC heading into the bout.
DC who has never lost at Heavyweight looked sensational, keeping Miocic at bay with jabs before coming in close to setup the eventual knockout blow, which Miocic had no chance of seeing.
Looking ahead to this rematch, on paper things are once again even, Stipe dispite the knockout loss to DC has a granite chin. DC has that olympic wrestling pedigree and at Heavyweight I believe DC can knock almost anyone out.
So what will be the deciding factor in this fight? I believe the time out for Stipe will play a major role in this bout, Stipe hasn't fought since he lost his title and losing in the fashion that he did must be in the back of his mind.
DC on the other hand has already defended the title once, and were it not for the on again then off again negotiations in getting Brock Lesnar back into the UFC, he probably would have defended the belt again a lot sooner.
With all this being said, I believe DC will be victourious in this rematch, I believe DC wears out Stipe over the first 2 rounds to secure a knockout in the third.
Nate Diaz returns!
In the co-main event is a matchup only dreams are made of! and thankfully them dreams have come true. Nate Diaz finally makes his return to fighting after a long 3 years out.
We last seen Diaz back at UFC 202 where he lost a very close decision to Conor McGregor. Diaz was originally inked to fight Dustin Poirier in November last year, but after disagreements with the UFC over McGregor fighting Khabib, the fight never happened.
Thankfully now, however, it appears as though Diaz and the UFC have patched up their differences and finally Diaz returns.
Welcoming back Diaz is the former UFC Lightweight Champion, Anthony Pettis. Pettis' last outing was a second round knockout over Stephen Thompson, a knockout which will forerver be cermented in his highlight reel alongside the running cage kick.
Pettis also fought Tony Ferguson back in October of last year in a fight that was an absolute brawl whilst it lasted, unfortunately for Pettis his broke his hand during the bout and had to retire at the end of the seconding round.
Pettis is now 2-2 in his last four UFC fights and is looking for a big win over Nate Diaz. Diaz is also 2-2 in his last four, the big factor going into this fight is the time off for Diaz.
3 years out has got to be a huge issue for Diaz, and whilst it's known that Diaz is always keeping fit all year round running triathalons, the cage rust will likely be an issue.
This fight is a real treat for UFC fans, however I feel that Pettis will get the job done in the third round, I believe Pettis' recent fighting time will allow him to take over late in the fight and secure a stoppage win.
Rest of the Card
The rest of UFC 241 is also stacked, we see a middleweight encounter between the always dangerous Yoel Romero and the undefeated Paulo Costa.
Yoel hasn't fought inside the Octagon since a split decision loss to current UFC Middleweight Champion Robert Whittaker at UFC 225 back in June last year.
Paulo Costa last fought in July last year knocking out Uriah Hall, coincidently his last fight was on the Miocic vs Cormier undercard.
Looking at this fight, this is Costa's first true big test, he has never fought anyone with the power that Yoel posses, if he can make it past the second however, I believe he can nap a decision win. A win for Paulo sets him up for title contention, he will likely have to face either Gastelum or the loser of Whittaker/Stylebender first, but a win over either of them will see him as the next 185lb challenger.
Sodiq Yusuff who is 2-0 in the UFC will take on Gabriel Benitez, looking at this fight I can see Sodiq grinding out a decision win.
Ian Heinisch makes his third UFC appearence taking on Derek Brunson. Heinisch is 2-0 in the UFC with wins over Antonio Carlos Junior and Cezar Ferreira, both by way of decision.
Brunson who is 2-2 in his last four UFC fights is returning after beating Elias Theodorou back in May, before that Brunson was knocked out in the first round during his previous two bouts. Ronaldo Souza knocked him out in January last year, followed by Israel Adesanya knocking him out in November last year.
Looking ahead to this fight, I think it'll be a tough night for Brunson, who really needs a win here to keep his place in the UFC, Brunson is now 4-4 in his last eight UFC appearences.
With all this being said, I feel Henisch will grind out a deicsion win over Brunson.
The full UFC 241 card looks as follows
UFC Fight Pass Prelims
Women's Flyweight
Sabina Mazo vs Shana Dobson
Bantamweight
Kyung Ho Kang vs Brandon Davis
Women's Strawweight
Hannah Cifers vs Jodie Esquibel
Prelims – ESPN/BT Sport
Bantamweight
Manny Bermudez vs Casey Kenney
Lightweight
Christos Glagos vs Drakkar Klose
Bantamweight
Raphael Assuncao vs Cory Sandhagen
Lightweight
Devonte Smith vs Khama Worthy
Main Card – PPV / BT Sport
Middleweight
Derek Brunson vs Ian Heinisch
Featherweight
Gabriel Benitez vs Sodiq Yusuff
Middleweight
Yoel Romero vs Paulo Costa
Co-Main Event – Welterweight
Anthony Pettis vs Nate Diaz
Main Event – UFC Heavyweight Title Bout
Daniel Cormier (C) vs Stipe Miocic
What do you think of UFC 241? Sound off in the comments below and be sure to check back with MMAThread for all your latest MMA News.