TJ Dillashaw not sold on Cody Garbrandt injury – "If it was hurting you to walk and you couldn't take the title fight then you should probably be doing some rehab."
Is the champion really hurt? TJ Dillashaw doesn't seem to think so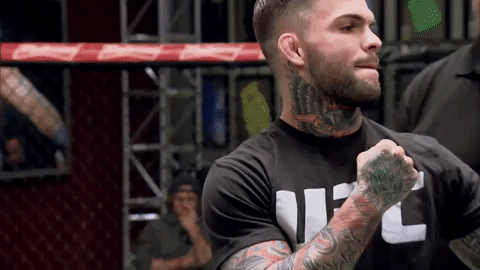 The UFC number one bantamweight contender, TJ Dillashaw (14-3 MMA, 10-3 UFC) was preparing for a title shot against UFC bantamweight champion, Cody 'No Love' Garbrandt (11-0 MMA, 6-0 UFC) at UFC 213 in July when the champion had to withdraw due to a back injury. Garbrandt was then sent to Germany by Dana White to receive treatment for this issue.
Dillashaw was forced off the card without an opponent and offered to move down to flyweight to take on the 125-pound UFC champion, Demetrious 'Mighty Mouse' Johnson (26-2-1 MMA, 14-1-1 UFC) instead. Dillashaw has admitted that he still wants the fight with Garbrandt, but he isn't completely convinced by the UFC bantamweight champion's injury claims as he discussed the matters on the Fight Society podcast.
"Trust me, I want the Cody fight as well but he's injured — I guess you can say," Dillashaw said. He then stated that he had received videos of Garbrandt since he returned from Germany and he didn't seem to portray the look of an injured fighter. "There are some posts that I got tagged in or got sent to me when I woke up one morning, him getting all drunk with his buddies and him getting into a full-blown wrestling match on the ground with Danny Castillo. If it was hurting you to walk and you couldn't take the title fight then you should probably be doing some rehab."
When asked about facing Demetrious Johnson for the UFC flyweight title then moving back up to fight Cody Garbrandt for the UFC bantamweight title, Dillashaw said: "Hell yeah, that would be a perfect world." Dillashaw said about facing Johnson and then Garbrandt. "Absolutely, that's what I'm looking for. I'm looking to be the best, I'm looking to be paid for it."
No doubt the hot-headed champion, Garbrandt will have plenty to say about Dillashaw's comments considering the bad blood that both fighters have. The rivalry has been boosted on The Ultimate Fighter Redemption where Garbrandt and Dillashaw are the team coaches. Will Dillashaw get his wish to fight for the flyweight title or will he have to wait for Garbrandt's injury to heal up before he fights again?
Listen to the full interview here: